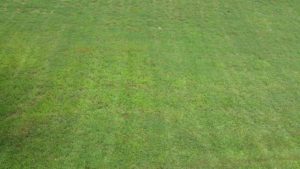 When my husband and I moved into our house some years ago, we had a huge backyard that needed some tender loving care. There were areas that had small brown patches and some spots that just wouldn't grow at all. I remembered us hiring a professional to treat the ground, laying seeds ourselves, and doing just about as much as we could to get the grass to grow.
Our next door neighbor had beautiful grass. He even provided encouraging advice of what he had to do to get his to grow, but year after year ours stayed in the same state. Well, as I opened my blinds today, I realized how beautiful the grass has grown without any of those brown patches in sight. I couldn't believe it! I wish I had taken a before and after picture. It's probably been like this for a while now, but my focus hadn't been on it anymore.  I immediately thought about my prayer life, and I realized that's typically how I receive answers to my prayers. When I pray about a problem and take my mind off it (surrendering it fully to God), the answer just shows up when I least expect it.  It's just like the old saying: "A watched pot never boils."
Sometimes I receive an answer to my prayers right away, but there are times when I have to "Be Still" and wait on God.  Just like the grass in my backyard, I had sowed seeds, watered them, and in due time (God's timing) I received the blessing I had been hoping for. 
Whatever you're standing, praying, and hoping for today, just give it up to God and trust in His timing that it will all work out for your good!