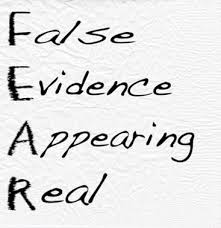 In my blogs, I love to focus on Women, Love, and Romance. However, there are times when I feel compelled to write about real-life topics that we face in our daily lives. No matter where you turn there is always a decision that you have to make.
What are you choosing to do today? To walk in faith or live in fear?
The decision is yours; however, I want you to know, if you didn't already, that God did not give us the spirit of fear. 2 Timothy 1:7 – For God hath not given us the spirit of fear, but of power and of love and of a sound mind.
Therefore, if God didn't give it to you, then why would you want it?
I woke up to an interesting post on Instagram a couple weeks that prompted me to write this blog. It was a man standing in front of his closet. He had a choice between a shirt that said Faith and a shirt that said Fear. There were only two shirts in the closet to choose from. I sat up in bed thinking this is a decision we have to make every day.
I choose Faith! I believe in the One who came before me – who wakes me up every day with a plan for my life. By Faith I choose to commit my day to Him, knowing that He knows best and has already gone before me to make a way for my daily assignments. What do you choose?
Living in fear cripples you and doesn't allow you to move forward when you know you should. How many books haven't been written due to fear, laws haven't been changed due to fear, relationships haven't been restored due to fear, calls haven't been made due to fear (tomorrow is not promised), forgiveness hasn't been accepted due to fear, and opportunities have been lost due to fear?
I can go on and on, but the truth of the matter is this – What do you choose today? Is it the shirt that says Faith or the shirt that says Fear?
I will say if you choose fear or just a little fear (this is when you tell yourself you can do it, but not right now…) that you may miss golden opportunities to reap the many blessings that God wants to give to you. I don't know about you, but I don't want mediocre opportunities. I want the Best! However, in order to receive it, we cannot walk in Fear.
For writers who are shopping their manuscripts around to agents/publishers, do not stop because you have received a rejection letter. You have the gift, so keep moving forward. Do not be afraid to shop your idea around because one person or ten people didn't like it. It's your idea not theirs! Keep the faith and press forward. By giving up and surrendering to fear will only ensure that your book is never published!
For entrepreneurs who have the dream to open up their own business, do not lose your faith because a bank said no to your plans or renovations are not going as planned. Keep the faith! James 1:12 – Blessed is the man who remains steadfast under trial, for when he has stood the test he will receive the crown of life, which God has promised to those who love him.
For those of you standing in the gap for your love ones – spouse, children, family members, etc. – do not lose the faith because challenges arise. Overcoming challenges is a testament to your faith working!
Please know that trials grow you and build your faith. If you never go through anything, then how would you know that it's possible (All things are possible with God) to overcome it and be that walking testimony to the next person?
Choose to walk in Faith today. Your Victory is around the corner and remember we always win with Jesus Christ! If you do not know Him, today is the day to ask Him to come into your life. Read the Salvation Prayer if you do not know him.
If you need encouragement or other resources, please feel free to send me a message on my Contact Author Page. Walk in Your Purpose. God bless!